I don't know how I have managed to blog this far without saying it but….
I AM GOING TO INDIA.
Caps-lock totally intended. Am I excited? Oh, just a little.
That I shall be absent from the blog space for a couple of weeks won't be that much of an irregularity given my recent neglect in this area however I'm sure I'll be back with pictures and food ideas. In fact, if that's the only thing I'm back with it'll be a worthwhile trip.
Delicious travel recipe (for which I must thank Sara at Sprouted Kitchen). I apologise for the brevity of the recipe instructions as I am a mass of last minute packing, malaria pills, and spare batteries for my flash gun…..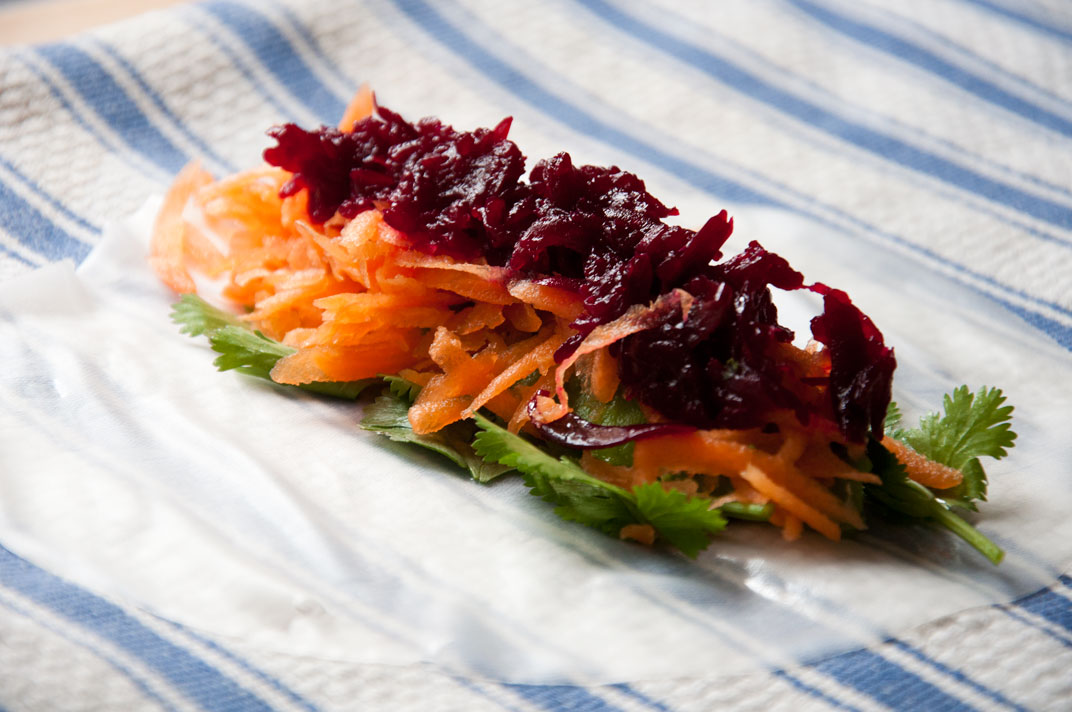 Rice Paper Rolls
(recipe adapted from Sprouted Kitchen)
6 rice paper wraps
Handful of coriander
3 carrots, grated
2 beets, grated
1 cucumber, grated
1 large avocado, sliced
1 cup lentils, cooked
1 tbsp. toasted sesame oil
dressing (2 tbsp sesame oil, 2 tbsp maple syrup, 2 tsp tamari)
Set up:
A large bowl of warm water and a clean dish cloth to roll your rice paper on.
Set out your ingredients: coriander, carrots, beetroot, cucumber and avocado, combine the cooked lentils with the ingredients of the dressing. Taste and adjust as desired.
One at a time, put a rice paper wrap flat into the large bowl of warm water, for approx. 20 seconds til soft. Carefully lay the wrap down on the dish cloth. Down the centre, layer small amounts of coriander, carrots and beetroot, a few slices of avocado and some lentils. Fold over the sides of the wrap, then the top and bottom of the wrap, tucking in at the ends (more skillfully and neatly than I managed to, hopefully). Repeat with remaining wraps. Yum.
I will try to add some more healthy travel ideas for future posts (I have packed some raw food energy balls, sesame and goji berry squares, hummus and salad). Let's cause some in-flight envy!