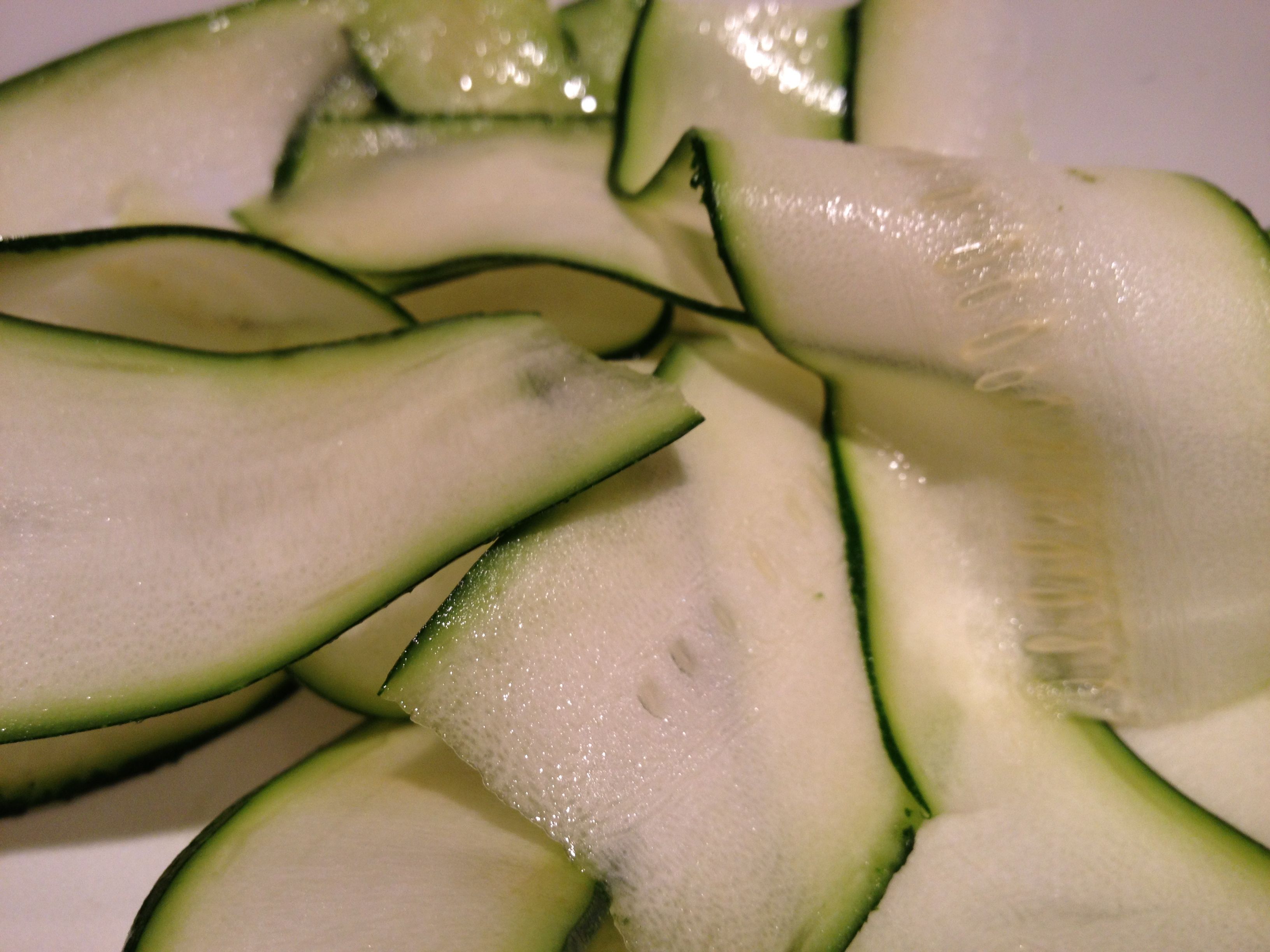 I have lots of cousins and lots courgettes in my refrigerator. The cousins aren't in my refrigerator of course, the courgettes are. Both are equally vocal. The cousins communicating all manner of things from encouraging and engaging to teasing and tantrums. The courgettes are calling for me to cook them. I guess that so many of my courgettes have been eaten thinly sliced and tossed raw into salads that it's a fair request. When I didn't know what to do with the amount of courgette amassing in my fridge I turned to Deb Perelmen's plethora of recipes for I knew she would have some fun things to do with the vegetable. And fun things she did have. So I hereby give you three of my favourite things to do with courgettes: The aforementioned courgette salad that I have been eating all too frequently through summer, courgette fritters and courgette bread (which we all know is actually cake but I'm sticking with calling it bread. It sounds healthier).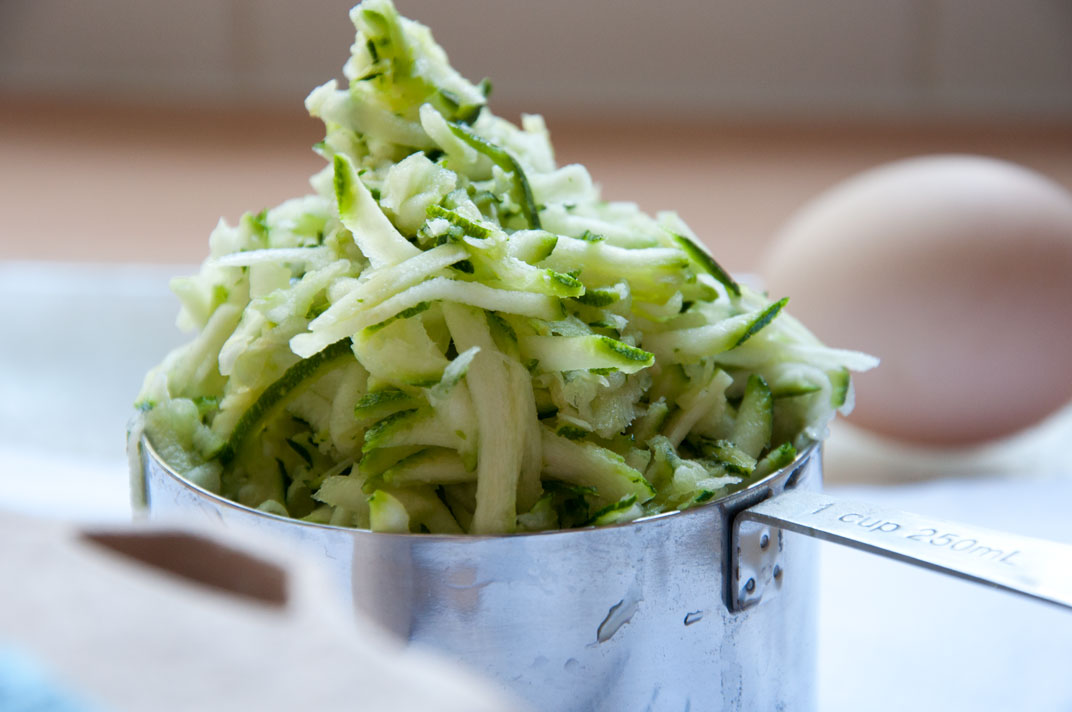 Speaking of healthy (and cousins); my cousin Daksha having taken a renewed approach to health and fitness (and how very proud of her I am for doing so) had been asking me for the recipe for courgette fritters. I had promised her a recipe post, oh I don't know, about… a month ago. Every week since I have been thinking "yep, I'll do that at the weekend", and then Sunday comes and goes and suddenly Monday is upon me and I'm in the middle of this chaos called daily life yearning for the weekend again. What, how?! As my aunt pointed out this could have something to do with the hours I while away experimenting with recipes in the kitchen but I'm sticking with the story of my own personal time warp. Kind of like right now. Sunday night. Tick tock…
Courgette salad
Ingredients
1 medium sized courgette
1 tbsp  olive oil
handful of pine nuts
1 tbsp pesto
squeeze of fresh lemon
Using a vegetable peeler (or a mandolin if you are lucky enough to have one of those), top and tail the courgette and thinly slice until you have ribbons of it on the plate. Squeeze over some fresh lemon, and spoon through the olive oil, pesto and pine nuts. Simples.
I often eat this on it's own although I have on occasion mixed it through some pasta and melted feta. That's pretty awesome too.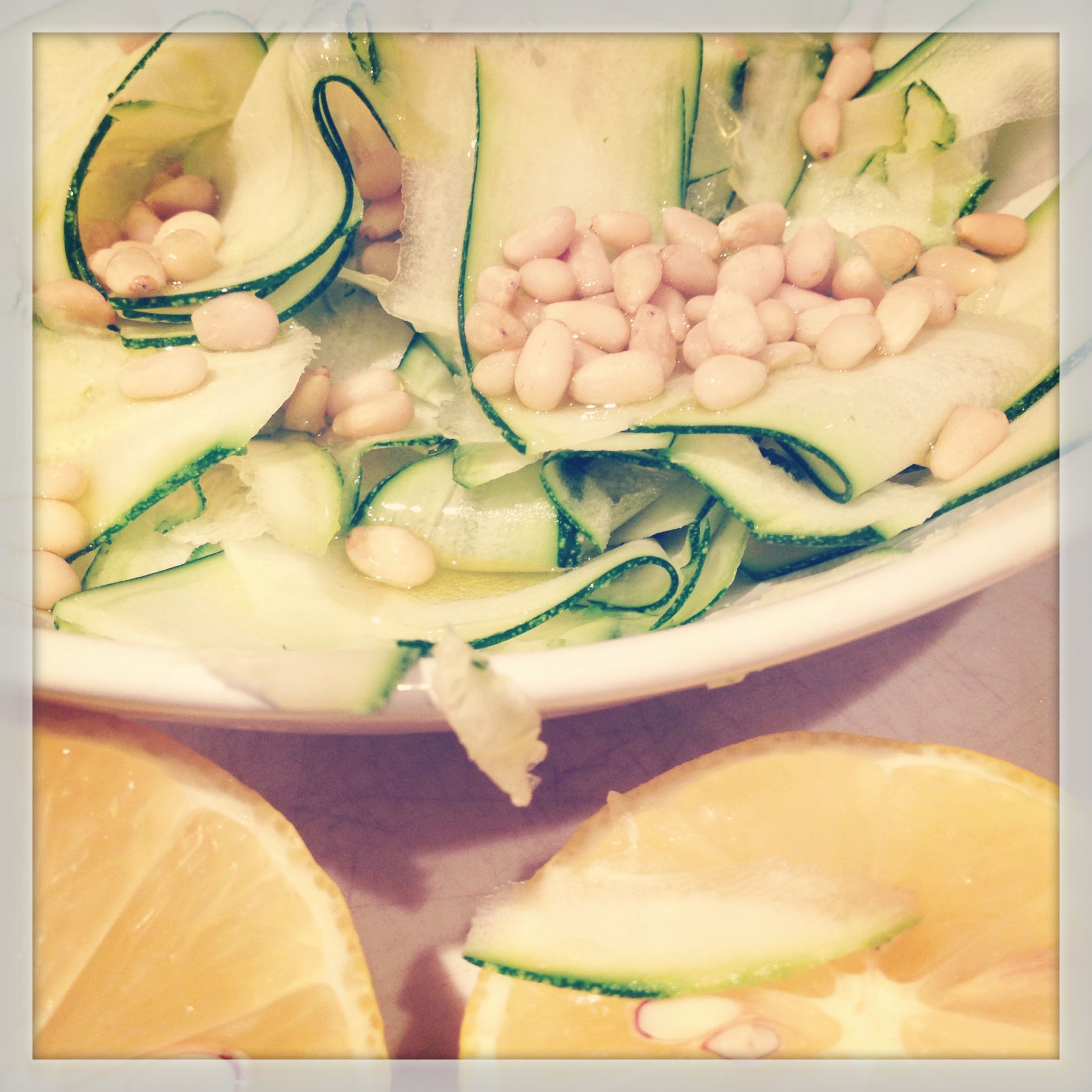 Courgette fritters
Adapted from Smitten Kitchen
Ingredients
1 large courgette
1 egg
½ cup buckwheat (or normal flour)
half an onion, sautéed (optional)
seasoning
oil for cooking (I prefer coconut oil here)
Grate the courgette and season with salt. Leave to sit for ten minutes.
Squeeze the water from the vegetable either by wringing it through a cloth, or pressing it hard into a sieve until all the liquid has been drained. It's the less-fun part of the process but you'll be thankful you did it otherwise you'll end up with soggy courgette fritters and no-one wants that.
Put the grated, squeezed courgette into a bowl and add the egg and half cup of flour plus some salt and pepper. Mix it all together.
If using onions (they do add texture and flavour to the fritters), sauté them in a little oil until translucent and soft. Add them to the mix.
Dollop a little of the mixture into a pan of hot oil and fry until the underside of the fritters are brown. Flip and cook the other side.
I love these served with home made mayonnaise.
Courgette Bread (Cake)
Adapted from Smitten Kitchen
Ingredients (yields two loaves)
3 eggs
200ml olive oil
220g sugar
350g grated zucchini
2 tsp vanilla extract
420g wholegrain flour
3 tsp ground cinnamon
1/8 tsp teaspoon nutmeg
1 tsp baking soda
½ tsp teaspoon baking powder
1 tsp salt
Optional extras: handful of chopped walnuts or pecans or raisins or chocolate chips
Preheat oven to 350°F. Grease and flour two 6x11inch loaf pan, liberally.
Beat the eggs with a whisk. Mix in oil, sugar, courgette and vanilla.
Combine the flour, cinnamon, nutmeg, baking soda, baking powder and salt, as well as any optional extras (nuts, chocolate chips raisins, if using). Stir this into the egg mixture. Divide the batter into the loaf tin.
Bake loaves for about an hour or until golden on top and an inserted knife comes out clean.
Share with cousins