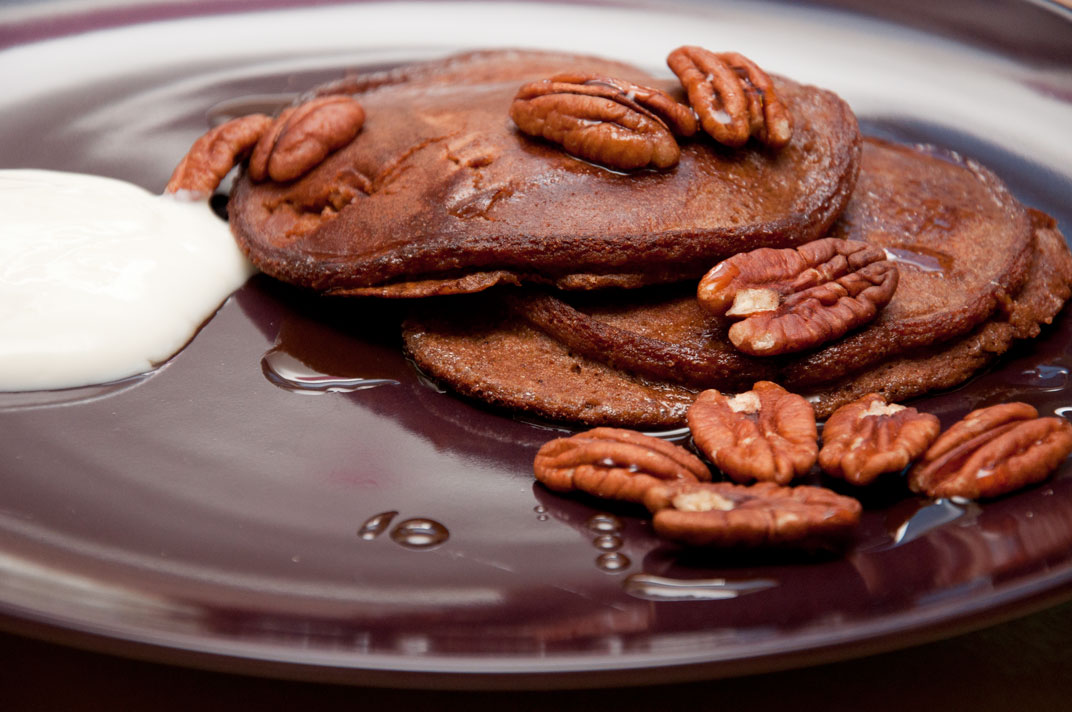 Yes I know. This is a 'weekend breakfast' kind of post. These days I am both leaving the house and returning to it with the moon and stars, the weekends and the weekdays are becoming indistinguishable; as my propensity to combine hours of work-time and play-time is becoming ever more distinguishable.
Hold up. Play-time? Amidst the hectic schedule of my daily life the extent of my play-time resides in the pleasure of messing around in the kitchen with ingredients: dustings of flour, spices and sugar, smears of butter and oil, shards of grated cocoa and nuts. This isn't a bad way to spend play-time and admittedly it's become something of a sacred space; my kitchen, the place to which I retreat when I'm not at the gym (my other sacred space).
This week I found myself experimenting with a recipe for pumpkin pancakes at 6am on Saturday when it was so dark outdoors that it felt more like a midnight snack than a pre-work breakfast. Admittedly the bacon granola was made on a Sunday, not least because Nigel Slater wrote that it's a Sunday kind of breakfast. It really is.
I decided to post both of these recipes not because they were life-changingly amazing nor because I've added either of them to my regular repertoire of weekend breakfasts but because they were unusual and because they characterise the joy of playing with ingredients. Oh, and because I promised my fabulous foodie-friend Paraskevi that I would. I can't wait to hear how your own version goes Skevi!

And with these good morning recipes, I bid you goodnight. Happy playing.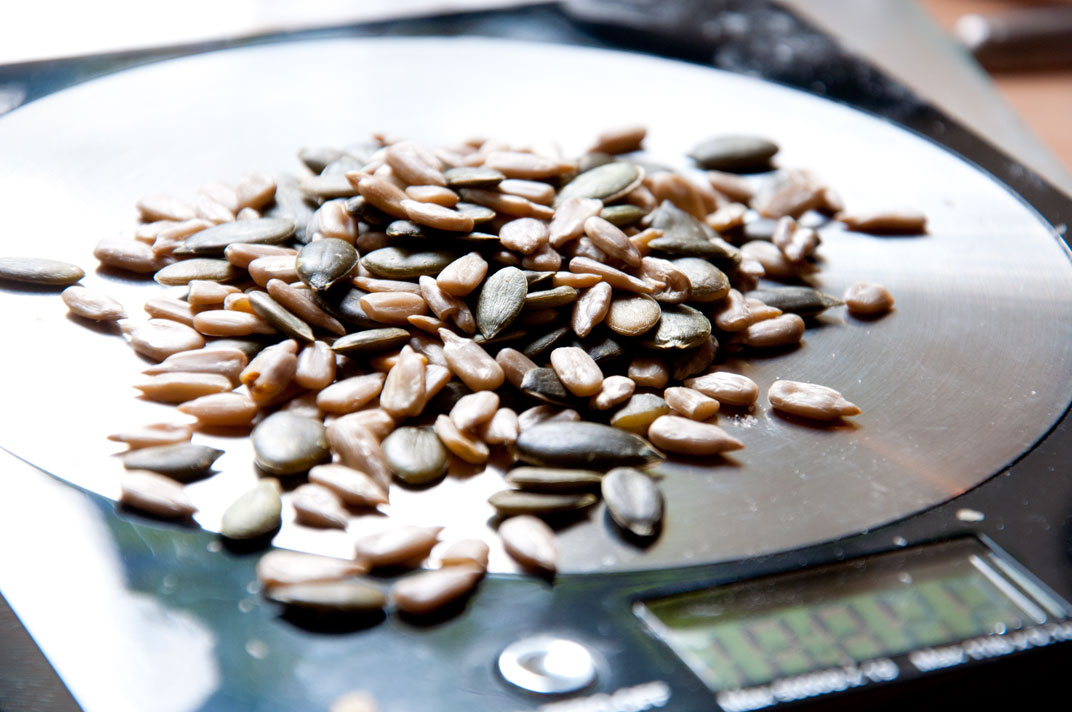 BACON GRANOLA
Recipe from Nigel Slater
6 rashers of smoked streaky bacon
40g butter
100g rolled oats
50g whole or flaked almonds
50 pumpkin seeds
2 tbsp hemp seeds
handful of dried cranberries
4 tbsp crème fraiche
Cut the bacon into small chunks and fry. Add butter to a shallow pan and tip in all ingredients except crème fraiche and bacon. Leave to warm over a moderate heat, stirring occasionally. When the oats are golden and smell warm and sweet, add in the bacon. Tip the whole lot into a bowl and stir the crème fraiche lightly through.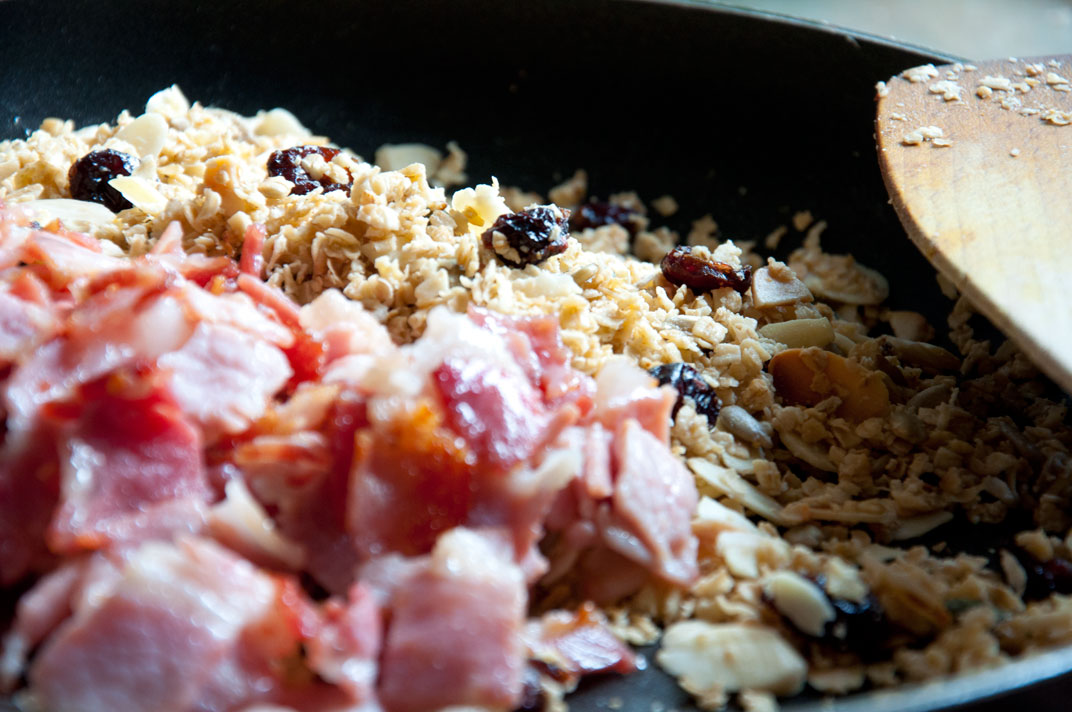 BUTTERNUT SQUASH BREAKFAST PANCAKES W PECANS
135g butternut squash puree*
2 eggs
½ tsp ground allspice
1 tsp ground nutmeg
1 tbsp ground ginger
3 tbsp ground cinnamon
¼ tsp baking powder
¼ cup wholewheat flour
coconut oil for frying
Greek yogurt, maple syrup and pecan nuts to serve
Stir all the pancake ingredients together. Heat a tbsp of coconut oil in a pan and add a heaped tbsp. of batter. I found that in order to cook through I spread the mix out thinly. Once golden brown underneath, flip and cook the other side.
*cut in half and roast a whole butternut squash. Once cooked through til soft, wait for the squash to cool and peel off the skin. Scrape the flesh into a food processor and add 2 tbsp maple syrup, 1 tsp ground ginger, 1 tsp cinnamon, 1 tbsp lemon, 2 tbsp brown sugar. Blend. Add contents to a pan and simmer gently for 20mins until the sauce thickens. Cool and store in a jar (for pancakes, or spreading on toast, or simply spooning straight into one's mouth)!